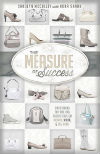 The Measure of Success
Uncovering the Biblical Perspective on Women, Work, and the Home
McCulley, Carolyn; Shank, Nora
Should a woman work?  Can a woman be feminine, godly, and ambitious?  Is work only for women who need the income?  Is there any sanctified ground between the stay-at-home mom and the aspiring executive?
Whether you are married or single, young or old, and whether you work inside the home or in the marketplace, Carolyn and Nora More →