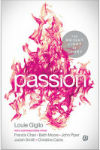 Passion
The Bright Light Of Glory
By Louie Giglio (with contributions from others)
Everyone lives for something – but is there one thing that matters most?  What brings ultimate meaning and purpose to our lives?  How can we be the generation that will lead the Church to share the fame of Jesus with the world?
This unique and powerful book is a remarkable collection of messages highlighting the journey of a generation to know More →