SPECIAL PROMO: RM39.90 NETT Hard Cover
A Visual History Of The King James Bible
by Donald L. Brake
This is the dramatic story of the World's best-known translation.  For over 400 years the King James Version of the holy Bible has been the most influential book to be published in the English language.  Now Bible collector and expert Donald L. Brake brings to life the fascinating story of its creation and proliferation throughout the English-speaking world.
With beautiful and informative photos, illustrations, charts, and sidebars, Brake invites you to explore the KJV's mysterious beginnings, the men who translated it, the manuscripts on which this translation was based, the important people and places that influenced its production, and even the possibility of Shakespeare's influence on it.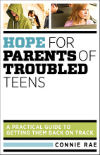 SPECIAL PROMO: RM14.90 NETT
Hope For Parents Of Troubled Teens
by Connie Rae
It's never too late to help your teenager.  Sometimes it feels like there's nothing you can do.  Your teenager or young adult is rebellious, distant, or depressed, and you feel helpless as you try to break through to the child you used to know so well.  But there are actions you can take to begin turning the situation around.
Licensed counselor Connie Rae has seen it all, both in her professional practice and in her personal life with a son who struggled through a drug addiction.  She offers encouragement and practical advice on what to say and do, and mistakes to avoid.  Whether the situation looks bleak already, or you're just preparing for the challenges of the years ahead, Hope for Parents of Troubled Teens will open up the world of your teenager's mind and provide the steps you need to protect and restore your relationship with your child.