SPECIAL PROMO: RM25.90 NETT
God's Promises From A to Z
By Helen Steiner Rice
For over half a century, Helen Steiner Rice's poetry has brought comfort and encouragement to a multitude of readers. Now repackaged for a new generation, this collection of poems offers an honest look at God's provision and protection for his people.
From his promises addressing faith and joy to those dealing with obedience and wisdom, Gods Promises from A to Z pairs more than fifty of Rice's poems with Scripture relating to God's promises. This hopeful and encouraging collection makes an ideal gift.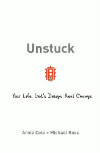 SPECIAL PROMO: RM21.90
Unstuck
by Arnie Cole & Michael Ross
Does your relationship with God seem broken? Full of silence and distance? Do you ever want more than just an "okay" walk with Christ? After conducting extensive research, including more than 70,000 surveys, Back to the Bible leaders Arnie Cole and Michael Ross found many Christians feel the same way. But they also discovered the secrets that help believers grow and thrive spiritually. And they want to share what they discovered with you.
Filled with honest stories and real-life examples, Unstuck provides you with practical and proven ways to encounter Scripture daily, connect with God, and revitalize your faith. Stop just going through the motions and learn how to tap into God's Word to live out the life He desires for you.