MALAYSIA BAPTIST CONVENTION (1953 – present)
2 Jalan Dispensary (2/38), 46000 Petaling Jaya, Selangor
Tel : 603-77823564 Email : mbcpj@tm.net.my Website : www.mbc.org.my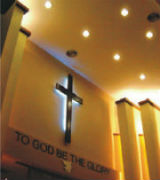 MBC was established on 16th August 1953 by 5 churches with the intent to foster a greater harmony, fellowship and co-operation among Baptist churches within and beyond Malaysia for a more effective ministry among Baptists.  MBC serves to unite and represent all Baptist churches in Malaysia and provide a platform for co-operative program and work among Baptist churches in Malaysia with a common aspiration to spread the gospel.  In line with these aspirations, the 3 service arms of MBC, consisting of Baptist Book Store, Golden Sands Baptist Assembly and Malaysia Baptist Theological Seminary have been mobilized in the effort to serve the Baptists and Christians in Malaysia.  By the grace of God, these entities have and will continue to contribute to the growth of Baptists in and beyond Malaysia.
GOLDEN SANDS BAPTIST ASSEMBLY (1957 – present)
Bt. 9, Jalan Pantai, 71050 Teluk Kemang, Port Dickson
Tel : 06-6625307 Email : gsbapd@hotmail.com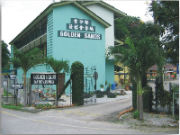 The Golden Sands' property was purchased in 1956 when some missionaries were looking for accommodations for the annual meeting of the Mission at Port Dickson.  Funds from FMB (Foreign Mission Board, later known as International Mission Board) were channeled in to purchase and build on the land over the years.  The chapel and dining hall was erected in 1957 and the first camp was held that year with 124 participants and 35 professions of faith.  The management of GSBA was transferred to MBC at the end of 1970s and Bro. Frank Oh was elected as Committee Chairman in 1979 and faithfully served for more than 20 years.  The running of GSBA would not have been possible if not for the selfless and faithful support of the committee, the cooks, care takers, as well as the many staff and ground supervisors.
Located by the beach and housing up to 175 persons, GSBA has been and will continue to fulfil its stated purpose, i.e. "to provide a Baptist Conference Centre of inspiration, evangelism, leadership development and recreational activities for Baptist organizations and individuals in Malaysia and Singapore."  In fact, many have come to know the Lord or heard and responded to God's call to full time ministry when attending camps or retreats at GSBA.
MALAYSIA BAPTIST THEOLOGICAL SEMINARY (1953 – present)
40 A-D, Mukim 17, Batu Ferringhi, 11100 Penang
Tel : 8811245 Email : bapts@po.jaring.my Website : http://www.mbts.org.my

Established in 1953 by MBC and FMB, MBTS was set up for the purpose of training God-called men and women for ministry in the churches.  Started with only 3 teachers and 5 students, it has since then, been flourishing as a Christian educational institution.  For curriculum and other details, please feel free to visit MBTS' website.