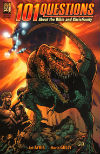 101 Questions
Where did Cain's wife come from? What does the Bible say about dinosaurs?
Where was Jesus for the three days between his crucifixion and the resurrection?
With colorful comic book illustrations, this captivating book provides biblically informed answers to 101 of the most commonly asked questions about Scripture and Christianity.
64 pages, softcover from Kingstone Comics.