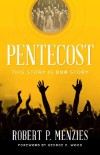 Pentecost: This Story Is Our Story
By Robert P. Menzies
Robert Menzies, writing in the lucid, moderate style for which he is well known, skilfully explains Pentecostal theology.  His answer for the uncertain and the confused is a skilful melding of sound hermeneutics, solid exegesis, and heartfelt testimony.  Pentecost demonstrates that the Pentecostal experience is by far the best twenty-first-century expression of Luke's distinctive vision of the Spirit-baptized church in mission.  This book is a heartfelt invitation for all Christians to be open to a new filling of the Holy Spirit of Jesus so He can continue to do immeasurably more for and through mere human beings than any of us can ask or even imagine!
Robert Menzies completed his PhD studies (New Testament) at the University of Aberdeen, Scotland, under the supervision of I. Howard Marshall in 1989.  He has authored several books on the work of the Spirit, including Spirit and Power: Foundations of Pentecostal Experience (Zondervan, 2000), which he co-authored with his father.  Dr. Menzies is an adjunct professor at Asia Pacific Theological Seminary in the Philippines and the Assemblies of God Theological Seminary in the United States.  He has taught at Bible schools and seminaries in the Philippines, Australia, Fiji, Indonesia, Malaysia, Japan, Russia, Holland, Korea, and the United States.  Dr. Menzies is currently the director of Synergy, an organization that seeks to enable rural village people in Southwest China to live productive and fruitful lives.