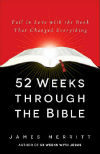 52 Weeks Through The Bible
By James Merritt
Read and Be Changed.
For thousands of years, God's word has penetrated human hearts and transformed lives.  So why does the Bible often collect dust on our shelves?  Why don't we mine the wisdom filling its pages?
Pastor James Merritt, author of the bestselling 52 Weeks with Jesus, invites you to view Scripture afresh and fall in love with the book that changes everything.  These simple weekly readings will help you…
 gain a big-picture view of God's message to you
 apply practical life lessons from the Bible's stories and teachings
 discover more about your destiny – on earth and in eternity
As you explore the lives of Israel's wisest kings, God's powerful prophets, and your amazing Savior, you'll see how every subject and story in Scripture paints a picture of God's plan for humanity –  including the story God wants to write with you.