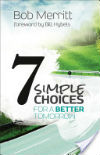 7 Simple Choices For A Better Tomorrow
By Bob Merritt
Life is hard–for everyone.  No matter how gifted or fortunate, everyone will experience some level of disappointment in life: difficult classes, jobs, relationships, and losses.  But by following basic disciplines anyone can experience accomplishment, freedom, and ease in navigating through life's daily challenges.
In this positive, insightful book, Bob Merritt describes a set of universal principles that work for everyone in every stage of life, showing that what we do today determines who we become tomorrow.  Anyone who has experienced pain or confusion from lost opportunities, broken relationships, or a nagging sense of emptiness will treasure this book that shows them that the best of life has not passed them by.