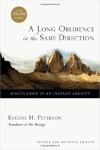 A Long Obedience In The Same Direction
By Eugene Peterson (LOCAL PRINT)
As a society, we are no less obsessed with the immediate than when Eugene Peterson first wrote this Christian classic.  If anything, email and the Internet may have intensified our quest for the quick fix. But Peterson's time-tested prescription for discipleship remains the same – a long obedience in the same direction.  Tucked away in the Hebrew Psalter, Peterson discovered "an old dog-eared songbook," the Songs of Ascents that were sung by pilgrims on their way up to worship in Jerusalem.  In these songs (Psalms 120-134) Peterson finds encouragement for modern pilgrims as we learn to grow in worship, service, joy, work, happiness, humility, community and blessing.  This 20th anniversary edition of A Long Obedience in the Same Direction features these Psalms in Peterson's widely acclaimed paraphrase, The Message.  He also includes an epilogue in which he reflects on the themes of this book and his ministry during the twenty years since its original publication.