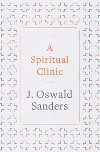 A Spiritual Clinic
By J. Oswald Sanders
A Lost Book from J. Oswald Sanders Now Re-Released with a Beautiful New Cover
"The complex strains and problems which the Christian encounters in the contemporary world find their answer, not in tranquilizers or stimulants, but in a correct understanding and application of scriptural principles."
-J. Oswald Sanders, from the introduction 
J. Oswald Sanders (best known for his book Spiritual Leadership, which has sold over a million copies), touched hundreds of thousands of lives in his lifetime and continues to inspire Christians today.  His books Spiritual Leadership, Spiritual Maturity, and The Incomparable Christ are beloved and well-read to this day. But there are two of his books that readers haven't had access to in over 30 years.
A Spiritual Clinic is one of them.  Life wears on us, we go through seasons of fatigue, strain and tension that take their toll, and we can easily fall into apathy. Sanders prescribes a powerful tonic of scriptural principles that lead to recovery and growth.
For anyone who feels worn out from their Christian life and could use a little spiritual doctoring, A Spiritual Clinic is for you.