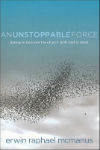 An Unstoppable Force
by Erwin Raphael Mcmanus
The world is changed by dreamers and visionaries.  But what about the church?  Is the church a welcome place for dreamers?  Erwin Raphael Mcmanus believes it is the place for dreamers.
Imagine a future where the church innovates and changes as fast as the globe changes around it.  In the spirit of the apostolic church, this body of believers welcomes diversity and radical sacrifice.  Success is measured not by the number of programs it offers but by how engaged it is with its community.
What if the church let go of broken, ineffective methods and mentalities and embraced innovation and fresh ideas?  What if the church became known as a refuge to the world, instead of a refuge from the world?