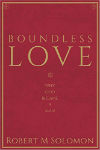 Boundless Love
By Robert M. Solomon
"Because I live, you also will live," Jesus declared – and He proved it by giving up and taking back His life.
Through the person of Jesus, the human race would see God's salvation, and the forgiveness, healing and transformation it brought would change the world forever.  In his latest collection of essays, Boundless Love, doctor, theologian and pastor Robert Solomon reveals what it took for the Maker to be made man, why He made that journey… and the incredible truths it opens up for everyone.