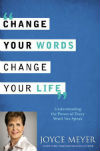 Change Your Words, Change Your Life
Understanding the Power of Every Word You Speak
by Joyce Meyer
It's amazing how much better your life becomes when you commit to say only what God would say.  So why not challenge yourself to be positive all the time?
Joyce's newest book can help you get more joy out of life simply by agreeing with God's Word.  Set yourself up for success – change your words and change your life today!