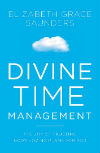 Divine Time Management
By Elizabeth Grace Saunders
Time is a precious gift.  When you invest it well, it's marked with meaning and unforgettable moments of joy.  But if you're like so many, you feel rushed.  Overwhelmed.  Pressured by your daily obligations and others' expectations.  The need to please, to succeed, and to make a difference wears away at your joy and leaves you feeling empty or exhausted.
Elizabeth Grace Saunders, internationally recognized time management expert, has helped everyone from busy moms to small business owners to corporate clients reorder their lives for success.  She knows there are endless apps, books, and useful methods for becoming self-disciplined, organized, and more successful, but these tools alone aren't enough to provide true freedom from the stress of how to best manage time.
Yet when Elizabeth's longtime faith intersected with her work, it unlocked the power of DIVINE TIME MANAGEMENT.  After a season of unusually high stress, where traditional time management methods fell short, she found a transformative sense of peace by surrendering her plans to God.  Pursuing God's wisdom in time management, Elizabeth discovered that by trusting Him she could achieve the happy, prosperous, confident life He lovingly planned for her.  Now she shares how you can find purpose, joy, and the peace that comes from letting God guide your actions.
DIVINE TIME MANAGEMENT offers you: a path to deeper intimacy with God centered on trust in Him; an understanding of what God wants for your life, to inform how you set priorities; biblical and personal encouragement to embrace your God-given desires; effective ways to faithfully navigate major decisions; and proven time-saving methods.
God delights in His children experiencing His best.  DIVINE TIME MANAGEMENT will help you align your life with God's best for you, for lasting joy with Christ at the center of your world.