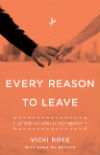 Every Reason To Leave
By Vicki Rose
Fifty percent of all marriages, both Christian and non-Christian, end in divorce.  More than half of divorces are filed by women due to unfulfilled marital expectations and a lack of guidance.  "Why bother to stay married?" they ask.  The answer to this question, asked by many couples, is addressed in detail through this compelling, personal, and detailed story of one couple's marital journey.  Vicki Rose shares her life story as an example of what GOD can and will do to restore a broken and seemingly irreparable relationship.  Vicki and her husband Bill, part owner of the New York Yankees, were separated for 5 ½ years.  Both Jewish, they each came to know Jesus Christ during their separation.  They reconciled and now have a Christ-centered, strong, and healthy marriage.
If you are wondering if it is worth the effort to stay married and have thought about divorce, this book is for you.