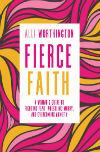 Fierce Faith 
By Alli Worthington
Sometimes Jesus's call to "fear not" seems like the hardest instruction to follow.
Some days you faultlessly juggle everything that is your life – kids, husband, house, job, church, friendships, school, pets, appointments, and on and on.  You've got this whole 'being an adult" thing nailed!  Then there are the other days where the very thought of which ball you're going to drop puts your anxiety level through the roof.  You're afraid you're forgetting something.  And you are: God's advice to fear not.
I know all about the ways we are hard on ourselves.  How we lay in bed at night and wonder, "If perfect love casts out fear, why am I still scared?' or "Do I just not have enough faith? Is that why I'm so worried?"
The secret to overcoming the worries that hold us back is combining the truth of scripture with practical action steps.  Fierce Faith gives you the exact steps to take for real peace and happiness.
Fierce Faith is a manual on how to overcome the worries that hold you back.  You will:
– Identify fear-based thinking and know how to finally stop it.
– Overcome the big and little worries in life.
– Learn a simple trick to stop the anxiety spiral.
– Live a more confident, less worried life.
Grab a cup of coffee and sit down for some encouragement from a friend.
This no-nonsense, wise advice will encourage you and show you exactly how to cut through the daily clutter of fear and worry to reconnect with your own fierce faith.