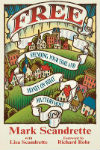 Free
by Mark Scandrette with Lisa Scandrette
Why does chasing the good life make us feel so bad?  We dream big and spend our money and time pursuing our dreams- only to find ourselves exhausted, deep in debt and spiritually empty.
In Free you'll hear from Mark and Lisa Scandrette about how they live debt-free in one of the most expensive cities in the United States – and how they've enjoyed good relationships, good adventures and good food along the way.
Packed with helpful exercises for getting a handle on your money story, and designed for healing and hopeful conversations with your friends, Free give you a path to financial freedom that awakens your heart and energizes your soul.