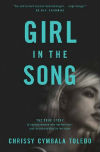 Girl in the Song
By Chrissy Cymbala Toledo
A fascinating true story.  Chrissy grew up surrounded by the beauty of love and the ugliness of pain.  The daughter of a pastor whose church was located in a rough-and-tumble area of Brooklyn, she witnessed the ravaging effects of the streets on the lives of the most desperate – drug addicts, derelicts, and other destitute people.  Yet her own home was a haven of warmth, filled with affection and love.
Then something happened that tore her away from it.  With the flip of a switch, Chrissy fell deeper and deeper into deception where haunting images and songs pointed to one thing – perfection.  Longing to be the girl in the song, she became entangled in an obsessive relationship.  Before long, secret after secret led her down the path to becoming someone she didn't even recognize.  Locked in to an impossible life, Chrissy found release from a surprising direction.
Girl in the Song tells the gripping, true story of a young woman whose choices led her to despair and incredible triumph.  More than the story of one lost girl, Chrissy's experience points to the power of hope to lead us away from destructive relationships and into a life that just might end happily ever after.