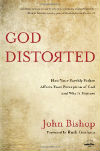 God Distorted
by John Bishop
God is not a bigger version of your earthly father.
When you hear the word "father," do you think of someone who is loving… or angry?  Someone who is pleased with you… or constantly disappointed?  Someone who is always available… or someone who is too busy, preoccupied, or distant?  When you think of "Father God," what images come to mind?  Regardless of the type of father you grew up with – or without – it is likely that your view of God is influenced by the relationship you had with your father.
Author John Bishop wants to help you discover that God is not just like your dad.  Instead, God is the Father revealed in Scripture, where the truth is clear.  God is a father who is:
–  always there
–  up close and personal
–  fully pleased
–  in complete control
–  completely safe
Filled with biblical insight and practical tools for reflection, healing, and restoration, God Distorted will enable you to break free from the lies of the enemy and see your heavenly Father as He truly is.