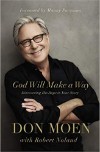 God Will Make A Way
By Don Moen
Life can be difficult. But does God care?
Don Moen has learned to lean on God's promises in good times as well as bad and he says, "You can still trust Him."
"A person would need to look a long time to find a purer heart and voice than those of Don Moen." — Max Lucado 
In his new memoir featuring snapshots from his life and career, Don shares heartfelt stories of gentle comfort for people looking for answers.  Don asserts, that God has not forgotten us even when…
•  We face a job loss
•  We go through an unexpected divorce
•  We receive a bad report from the doctor
•  We face the death of a loved one
As a beloved songwriter and worship leader, Don Moen is the author of classic songs like "Thank you, Lord" and "God Will Make a Way"— the inspiration for this book.  He knows what it means to feel anxious, worried, and down. And he knows what it means to persevere and see a new day.