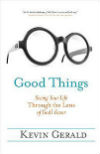 Good Things
By Kevin Gerald
Take a fresh look around you with eyes that cut through the daily distortions and see the undeniable and extravagant goodness of God.  In Good Things, Kevin Gerald invites you to become a good finder.  This book will equip you to:
•  Discover that the goodness of God exceeds the pain of life's hardship.
•  Know how to keep your mind on God's favor not your failure.
•  Recognize that grace and favor are so intertwined you can't separate them.
•  Apply seven favor dynamics that will help you overcome relationship barriers.
• See what you are certain to overlook until your eyes are trained to see it.
It's time you move forward in confidence, knowing that God is for you.  He is always seeking to give you good things, and His favor is forever!