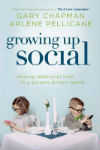 Growing Up Social
Raising Relational Kids In A Screen-Driven World
By Gary Chapman and Arlene Pellicane
In this digital age, children are spending more and more time interacting with a screen rather than a parent. Technology has the potential to add value to our families but it can also erode a sense of togetherness and hinder a child's emotional growth.
In Growing Up Social: Raising Relational Kids in a Screen-Driven World, you'll learn how to take back your home from an over-dependence on screens. Discover the five A+ skills needed to give your child the relational edge in a screen-driven world: affection, appreciation, anger management, apology and attention.
Today s screens aren' t just in our living rooms; they are in our pockets.  Now is the time to equip your child to live with screen time, not for screen time.  Constant entertainment is not the goal of childhood.  No phone, tablet, or gaming device can teach your child how to have healthy relationships; only you can.