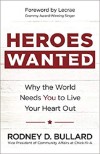 Heroes Wanted
By Rodney D. Bullard
The World Needs Heroes…Like You!
With all the hardships and unmet needs in the world, it's difficult to believe one person can make a difference.  Where can you even begin? What do you have to offer?
Rodney D. Bullard, Executive Director of the Chick-fil-A Foundation, wants to share with you the surprisingly simple but incredibly powerful ways you can impact others and create a legacy of service.  In Heroes Wanted, you'll find inspiring stories to help you:
•  demonstrate life-changing compassion to the people around you
•  understand courage and make brave choices every day
• s hare your own story authentically to provide hope for the weary
God created you with strength, compassion, and a heroic heart beating in your chest. Become the hero He made you to be and start shining light wherever you go.
You were made for this.  The world needs you.