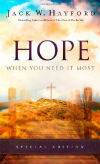 Hope – When You Need It Most
by Jack W. Hayford
When all hope feels lost, where can you turn?  Through the words of Jesus as He was dying on the Cross, Jack Hayford unfolds the secret of triumphing over the ultimate season of suffering and reveals how to regain hope in the midst of seemingly impossible situations.
By focusing on the power of the Cross, you will find hope and help to handle trials that come your way.  You will be encouraged and inspired by real-life stories of individuals overcoming incredible challenges, including Hayford's experience of walking through the sudden death of his son-in-law.  You will be heartened by stories of bravery and integrity – even while facing the anguish of marital infidelity or financial collapse.
This Special Edition of Hope When You Need It Most does more than encourage you to endure – it inspires you to overcome.