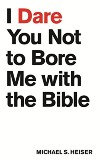 I Dare You Not to Bore Me with the Bible
By Michael S. Heiser
The Bible is filled with passages that are so baffling we tend to ignore them.  Yet the passages that seem weird might be the most important.  This collection of essays from Bible Study Magazine will shock you, intrigue you, and completely change the way you view the Bible.  Dr. Michael S. Heiser visits some of the Bible's most obscure passages, unveiling their ancient context to help you interpret them today.  Read this book, and you'll never be bored by the Bible again.