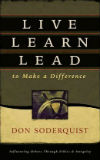 Live Learn Lead to Make a Difference
by Don Soderquist
Dream no small dreams . . .
You have dreams and aspirations that go far beyond status quo existence, but rather to making a powerful difference in your world.
Let the simple, humorous, and profound reflections of Don Soderquist, one of the driving forces behind Wal-Mart becoming the largest company in the world, help inspire you to :
–  LIVE with PURPOSE
–  LEARN as a WAY of LIFE
–  LEAD to MAKE A DIFFERENCE
Your life – and the lives of those around you – will never be the same.