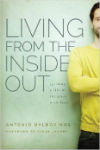 Living From The Inside Out
By Antonio Baldovinos
Reignite your heart and live with passion for God!  Prayer leader Antonio Baldovinos goes straight to the heart of the matter – the heart of the believer.  Get ready for your heart to burn for Jesus as you . .
•  Figure out why God created you and discover how He sees you
•  Pursue the pleasures that bring you true satisfaction
•  Develop a daily lifestyle of intimacy with the Holy Spirit
•  Experience victory over desires of the flesh by building up a strong spirit.