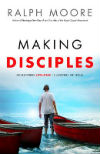 Making Disciples
By Ralph Moore
You can't buy spiritual momentum, and you can't obtain it through a programmatic approach to ministry.  It must be relational in order to work. According to Ralph Moore, Jesus' simple plan of disciplemaking is actually a very personal process rooted in face-to-face relationships.  We grow in Christ as we seek Him together.  When you become a disciplemaker, you will:
•  Find personal fulfillment  
•  Make friendships that last a lifetime
•  Become a history maker
•  Make an ultimate differenc in the larger world
•  Learn to prioritize your life so that you find the time and the relationships where you can say, "Follow me while I follow Christ".