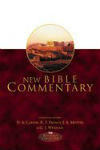 New Bible Commentary (IVP)
Consulting editors: D.A. Carson, R.T. France, Alec Motyer, G.J. Wenham (eds.)
For fifty years the 'New Bible Commentary' has served Bible readers worldwide. This 21st Century Edition builds on the strengths of the previous three; a one-volume commentary on the whole Bible by an international team of contributors; general articles on what the Bible is and how to read it; an introduction to each Bible book; commentaries dividing each book into sections
for ease of reference.  
Designed to meet the needs of today, the 'New Bible Commentary' makes use of recent international scholarship: 80% of the articles are entirely new and the rest have been rewritten. New maps, diagrams, charts and tables illuminate the text, and further reading lists are included with each article.