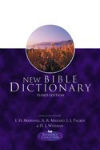 New Bible Dictionary (IVP)
Consulting editors: I.H. Marshall, A.R. Millard, J.I. Packer, D.J. Wiseman
The New Bible Dictionary has stood the test of time. It has long been recognized as an essential reference work, and it has been revised and improved for the Bible students of today. This Third Edition updates key articles, time charts and all bibliographies – revisions that reflect recent developments in biblical studies. A vital tool freshly sharpened for contemporary use.
An A – Z of Bible terms, place names, books, people and doctrine written by an international team of over 150 scholars, reflecting recent advances in research and scholarship. Maps, family trees, line drawings, diagrams and charts clarify and expand the text. An index gives ease of access to all significant data.