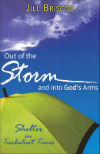 Out of The Storm And Into God's Arms
by Jill Briscoe
Where do you turn when suffering hits?
How do we handle unexplainable sorrows?  What do we say to people whose dreams have come crashing down?  With honesty and hope, Jill Briscoe explores questions about suffering.  Looking at truths from the book of Job, she offers new perspectives on the hard times, reminding us that God is our shelter through every storm.  Study questions at the end of each chapter make this ideal for group or individual study.