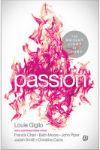 Passion
The Bright Light Of Glory
By Louie Giglio (with contributions from others)
Everyone lives for something – but is there one thing that matters most?  What brings ultimate meaning and purpose to our lives?  How can we be the generation that will lead the Church to share the fame of Jesus with the world?
This unique and powerful book is a remarkable collection of messages highlighting the journey of a generation to know Jesus and live for His glory.  If Jesus is truly the only place we find grace and significance, we want to run after Him above every other name… and we want to live to make His name known.  We only get one brief shot at life, so we must make it count.
Passion founder and author Louie Giglio has woven together a powerful collection of talks from Francis Chan, Beth Moore, John Piper, Judah Smith, and Christine Caine that will lead you to the heart of Passion and encourage you to burn brightly for His renown.