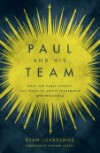 Paul And His Team
What The Early Church Can Teach Us About Leadership And Influence
By Ryan Lokkesmoe
Most Christians know something of the apostle Paul's life and ministry, but what about the incredible team of influencers he assembled and mobilized?  Who were they, and how did Paul lead this team to accomplish God's purposes?  Even more, what can we learn from their successes and failures, and how can we imitate their qualities?  
These are the questions that inspired Ryan Lokkesmoe, PhD, to write Paul and His Team.  Like a church-ministry version of Team of Rivals, it reveals important principles about leadership and influence by showing how this early ministry team:
 Adapted to cultural, doctrinal, and interpersonal challenges
 Found common ground with their audiences
 Led baby believers toward maturity
 Stayed united despite differing opinions
 Equipped others for the work of the ministry
 Conducted their lives with self-discipline
 Built and maintained strategic partnerships
 Navigated sensitive cross-cultural situations
 Persisted through difficulty, frustration, and fractured relationships
 Persevered when ministry was discouraging
 Developed leaders to replace them
Whether you are in a position of leadership or are simply a passionate follower of Christ, you are an influencer that God is using to build His church.  And while Paul and His Team certainly reveals a lot about Paul's character as a leader, it also highlights both prominent and obscure members of his team to offer a textured portrait of the early church's influence in spreading the gospel.
Let's learn from the men and women God used to build the church, letting them shape our leadership and influence as we continue their work.
Includes group discussion questions at the end of each chapter, making this book ideal for a church-staff or small group study.