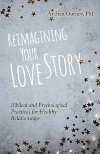 Reimagining Your Love Story
By Andrea Gurney, PhD
We've all grown up watching the fairy tales that promise happily ever after with our one true love.  Whether we like it or not, whether we think we believe it or not, chances are we've internalized that story of love.  And despite the technology to find connection with more people than ever before, somehow we are also lonelier than ever before – even when we're in relationships.
Although we were created for loving, intimate relationships, we've lost our understanding of how to find and maintain them.  Andrea Gurney wants readers to discover more authentic connections that aren't made of wishes, so she equips us with practices from psychology, biblical truths, and lessons from relationship science.   She also helps us examine our developmental history, including how cultural and familial messages take root in our psyches.  Together, these tools craft a solid foundation on which lasting love can be built, rather than a pumpkin carriage that disappears when the clock strikes midnight.
If you are disillusioned by unattainable societal standards, in need of healing from damaged relationships, or simply want to improve at relating well with others, you're ready for Reimagining Your Love Story.