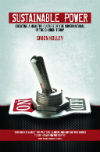 Sustainable Power
by Simon Holley
Creating A Healthy Culture Of The Supernatural In The Church Today
Simon Holley tells the fascinating story of one church community's journey into faith.  As he and others in the church learn to hear God and trust that he will keep his promises, they find themselves in exciting encounters with his power both inside the church and while going about their day-to-day lives.
From nearly twenty years of reaching out for more of God's blessings while keeping his feet firmly on the ground, Simon shares simply and honestly what he and his church found.