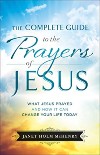 The Complete Guide to the Prayers of Jesus
By Janet Holm McHenry
Prayer was essential to Jesus.  Yet many Christians only know the Lord's Prayer, unaware of the rich, fertile prayer life he had while on earth.
With warmth and keen insight, Janet Holm McHenry takes you on an engaging, vivid journey through the 14 recorded prayers Jesus prayed as well as his teachings on prayer and his prayer practices.  No matter our backgrounds or ideas about how, when, and why we should talk to God, we can learn from Jesus's simple, vulnerable examples.
This unique, comprehensive guide to the prayer life of Jesus provides background, context, and a detailed look at each one of the prayers of Jesus along with reflection questions and Scripture-based prayers.  As we follow his example and take our problems to him, we will, like him, grow closer to the Father and find strength for our everyday challenges.