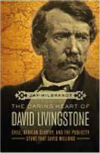 The Daring Heart of David Livingstone
By Jay Milbrandt
Saint?  Missionary?  Scientist?  Explorer?
The titles given to David Livingstone since his death are varied enough to seem dubious and with good reason.  In view of the confessions in his own journals, saint is out of the question. Even missionary is tenuous, considering he made only one convert.  And despite his fame as a scientist and explorer, Livingstone left his most indelible mark on Africa in an arena few have previously examined: slavery.
His impact on abolishing what he called this awful slave-trade has been shockingly overlooked as the centerpiece of his African mission.
Until now.
The Daring Heart of David Livingstone tells his story from the beginning of his time in Africa to the publicity stunt that saved millions after his death.