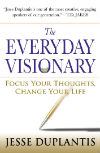 The Everyday Visionary
By Jesse Duplantis
Life is about dreaming, doing, and enjoying yourself in the process.  Sometimes it might seem as if your dreams are just too wildly improbable, or there are too many obstacles standing in your way, or you've missed your window of opportunity.  But if those dreams are divinely inspired, hope is far from lost. You just need to know how to visualize the path to your dream to make it a reality.
Born a poor Cajun boy in south Louisiana, Jesse Duplantis was a rock musician in his early years and, after a life-changing experience with God, became one of the most candid, and popular, ministers of the Gospel today.  For thirty years Jesse Duplantis has demonstrated what life can be when you focus on finding your personal path and nurturing a closer relationship with God and Jesus Christ.  Jesse believes God can help anyone to succeed–no matter who you are or where you come from.
Weaving visionary-style thinking with powerful life principles and stories from his own life, Jesse shares what destiny really is, how to find yours, and how to avoid letting others kill your joy.  You'll also learn about the "Greatest Weaknesses" and "Destiny Killers" that have prevented people from achieving their goals.