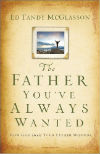 The Father You've Always Wanted
By Ed Tandy McGlasson
It is a tragic reality that many people never experience the solid, positive presence of a loving father.  This lack of fatherly influence and care has deep ramifications for life, including how we interact with others, raise our own children, and understand God as Father.
But God promised that he would not leave us orphans, that everyone who believes becomes an adopted son or daughter of a loving Father in heaven.
Ed McGlasson shares his personal experience of having lost his own father before he was born.  With deep conviction and strong encouragement, he invites hurting people to take heart and have hope in their heavenly Father who loves them, blesses them, and will never leave them.  Readers will take away a new sense of purpose, identity, and value that they have been searching for their whole lives.