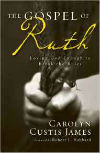 The Gospel Of Ruth
By Carolyn Custis James
Traditionally, the book of Ruth is viewed as a beautiful love story between the submissive Ruth and Boaz, the Kinsman Redeemer.  But when author Carolyn Custis James began digging deeper, she found startling revelations.  Three lives converge in a powerful alliance that transforms their lives and changes the world.  Naomi, Ruth, and Boaz discover God makes much of broken lives, that he calls men and women to serve him together, and that he's counting on his daughters to build his kingdom.
"Compelling and riveting … this book will change your assumptions about Ruth and your preconceptions about the relationships between men and women." Tremper Longman III.