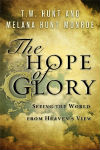 The Hope Of Glory
by T.W. Hunt and Melana Hunt Monroe
The glass is half empty; the glass is half full.  How you see it depends on your perspective.
In The Hope of Glory, beloved Bible teacher T. W. Hunt and his daughter, Melana Hunt Monroe, explain how you can apply God's perspective to your life.  By teaching you to focus on God's character, the Trinity, and personal spiritual growth, this book will help you see all of life from Heaven's viewpoint, just as Jesus did.