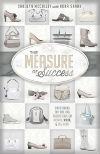 The Measure of Success
Uncovering the Biblical Perspective on Women, Work, and the Home
McCulley, Carolyn; Shank, Nora
Should a woman work?  Can a woman be feminine, godly, and ambitious?  Is work only for women who need the income?  Is there any sanctified ground between the stay-at-home mom and the aspiring executive?
Whether you are married or single, young or old, and whether you work inside the home or in the marketplace, Carolyn and Nora create a rich vision for fulfillment through an understanding of the compelling foundation for the biblical call of productivity.
Far from the stone-throwing arguments that often occupy the discussion around women, work, and the home, Carolyn and Nora show how the redemptive message of the gospel allows the Bible's teaching on the role of women to coexist with ambition.  It creates a fresh vision for the profit we all gain from encouraging female contribution in the home, society, and church.
If you've ever wondered whether you're living the life that most glorifies God, The Measure of Success will help you answer that question.