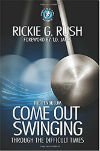 The Pendulum
Come Out Swinging Through the Difficult Times
By Rickie G. Rush
You Haven't Missed It; You're Right on Time!
Many of God's people feel guilty for going through difficult seasons.  We think depression is spiritual weakness.  In challenging circumstances, we ask: "God, where are You?"  We consider the state of our lives and become discouraged, assuming we are not where God wants us to be. But what if we are?
What if the very circumstances that threaten to destroy us are the very things that launch us into our God-ordained moments of destiny?
In The Pendulum, Pastor Rickie Rush shows you that there is a time for everything under heaven.
Learn how:
•  Your seasons of difficulty can push you closer towards fulfilling your purpose
•  God never wastes the struggles that you go through
•  To embrace and flow with the natural seasons of life
•  God's supernatural ability causes you to come out victorious on the other side
God wants to use your story and transform you into someone who can help others flourish in every season of life!