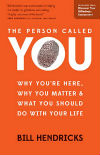 The Person Called You
By Bill Hendricks
"I can't stand my job anymore."
"I feel like I have no direction."
"What should I do with my life?"
Sound familiar?  If so, you're not alone.  Barna Group finds that 75% of Americans are seeking ways to live more meaningful lives.  And among practicing Christians, only 40% have a clear sense of their calling.
But there is a way to find and follow your purpose.
For over twenty years, Bill Hendricks has been helping people of all ages and stages find meaning and direction for their work and for their lives.  The key is harnessing the power of human "giftedness."  Every person has their own unique giftedness including you!  And the best way to discover it is not through a test or gift assessment exercise, but from your own life story.  Through this book, find out what you were born to do and the profound difference that insight makes for every area your work, your relationships, even your spirituality.
BILL HENDRICKS is President of The Giftedness Center, a Dallas-based consulting firm specializing in organizational effectiveness and individual career guidance.  He is the author or coauthor of twenty books, including "The Power of Uniqueness," "The Light That Never Dies: A Story of Hope in the Shadows of Grief, Your Work Matters to God," and  "Living by the Book."  He has written for numerous publications and shares his thoughts regularly at BillHendricks.net.  Bill holds an undergraduate degree in English from Harvard University, a master of science in mass communications from Boston University, and a master of arts in biblical studies from Dallas Theological Seminary.  He is the proud father of three grown daughters by his late wife, Nancy, and is now re-married to Lynn Turpin Hendricks.