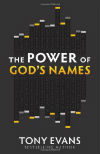 The Power of God's Names
by Tony Evans
Sure, life has problems… but God has a name for each and every one of them.  As you explore the richness contained in the names of God used in Scripture, you will learn to trust the Lord's goodness, rely on His promises, and live in His abundance.  You will see God's power in a new light as your heavenly Father's character becomes real to you in life-changing ways.
By studying and understanding the characteristics of God as revealed through His names, you will be better equipped to face hardship and victory, loss and provision, and every challenge of this life.