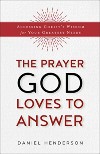 The Prayer God Loves To Answer
By Daniel Henderson
Ministry Leader Teaches How to Pray for Direction and Guidance
Should I take that new job?  How can I be a better parent?  Who should I marry?  How can I make ends meet?  We all face challenging questions that keep us up at night, and we don't know who to turn to for answers, or even if there's anyone at all who can help. It turns out there is–the very God who created you. 
Everyone needs God's wisdom to navigate the complexities of life and manage responsibilities, difficulties, and relationships. Jesus Christ, the source of all wisdom and knowledge, has not called us to figure these things out for ourselves–he is ready to give us his perfect wisdom as we seek him in prayer.  In this book, Daniel Henderson shares a Gospel-centered approach to living wisely in a broken world. He gives you practical steps for praying to receive answers in the midst of our confusion and uncertainty as well as questions for group discussion.  There is no question you can ask that God can't answer.  He's just waiting for you to ask.
Includes practical prayer guide and questions for group discussion.