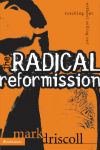 The Radical Reformission
by Mark Driscoll
Reformation is the continual reforming of the mission of the church to enhance God's command to reach out to others in a way that acknowledges the unique times and locations of daily life.  This engaging book blends the integrity of respected theoreticians with the witty and practical insights of a pastor.  It calls for a movement of missionaries to seek the lost across the street as well as across the globe.  
This basic primer on the interface between gospel and culture highlights the contrast between presentation evangelism and participation evangelism.  It helps Christians navigate between the twin pitfalls of syncretism (being so culturally irrelevant that you lose your message) and sectarianism (being so culturally irrelevant that you lose your mission).  Included are interviews with those who have crossed cultural barriers, such as a television producer, exotic dancer, tattoo studio owner, and band manager.  The appendix represents eight portals into the future: population, family, health/medicine, creating, learning, sexuality, and religion.
Mark Driscoll was recently featured on the ABC special The Changing of Worship.