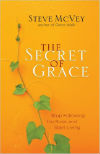 The Secret Of Grace
By Steve McVey
You may believe that your relationship with god somehow revolves around what you do for Him.  Perhaps you try hard to please Him but keep failing.  Maybe you've given up.  Or you just try not to think about the whole thing.  You can't feel close to Him because you think His primary interest is not in you, but in how well you live up to His rules and commands.   
Wouldn't it be a relief if God didn't agree with you?
Walk with Steve McVey through ten secrets from Scripture – open secrets about God's grace – and discover that :
•  The Father wants your friendship far more than your accomplishments
•  What He's already done in you through Christ is far greater than anything you could do now.
•  You're as included in His love as Jesus, His Son, is – and nothing can change His mind about it.
These and seven more truths show how you can be free to love and trust God . . . and let His glorious accomplishments flow through you.