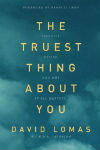 The Truest Thing About You
Identity, Desire, and Why It All Matters
By Lomas, David; Jacobsen, D. R.
There are many true things about you – true things you use to build an identity. Parent. Introvert.  Victim.  Student.  Extrovert.  Entrepreneur.  Single.
These truths can identify you, your successes and failures, your expectations and disappointments, your secret dreams and hidden shames.  But what if your true identity isn't found in any of these smaller truths, but in the grand truth of who God says you are? In other words, lots of things are true about you – but are they the truest?
David Lomas invites you to discover and live out the truth of who God created you to be: you are loved, you are accepted, and you are made in God's image.  It's time to move beyond the lesser voices and discover why everything changes when you become who you really are.