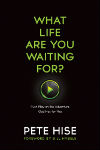 What Life Are You Waiting For?
By Pete Hise
The life you once dared to dream of is still available to you.  Pete Hise invites you to rediscover the shocking truth of the gospel that has the power to rebuild faulty foundations of identity and open your eyes to new realms of possibility.
Isn't it time to end the cycle of wishing and waiting for life to change – and to stop standing on the sidelines when God Himself is inviting you into the game?